CHARTER FLIGHTS
At Five Stars Airport Services, we believe in the freedom to travel the way you want. That's why we offer you the opportunity to choose your destination and schedule your private flight at a time that suits you best, thanks to our partnership with several renowned airlines.
The unrivalled benefits of private flights
Discover why our private flights are the ideal solution for your trip:
Travel at your own pace: Our flexible schedule means you can travel whenever you like. No more constraints linked to fixed flight times. Choose the departure and arrival times that suit your schedule.
Assured safety and reliability: We make it a point of honour to guarantee your safety. Our aircraft, including Twin-Otter, Britten-Norman, Pilatus PC-12 and Helicopter Airbus AS350-B2, are carefully selected to meet the highest standards of reliability and safety. So you can travel with complete peace of mind.
Why choose Five Stars Airport Services?
We are proud to be your number one choice for private flights between Sint Maarten and St Barths. Our commitment to your comfort, safety and satisfaction is our top priority. Each of our flights is operated by experienced pilots and our partners' aircraft are regularly inspected to ensure a worry-free experience.
Our partner airlines
When you travel with us, you have a choice of several renowned airlines, all of which are trusted partners committed to providing you with an exceptional flying experience. Each of these airlines has a solid reputation for quality of service and punctuality.
Book your private flight today!
Don't wait any longer for a fast and flexible travel experience between Sint Maarten and St Barth with Five Stars Airport Services. To book your personalized private flight, contact us at +590590523982 or by e-mail at vip@fivestars-stbarth.com. Our experienced team is on hand to answer any questions you may have and to create a tailor-made trip to suit your needs.
The Fleet
Twin Otter (De Havilland Canada DHC-6 Twin Otter)
Capacity: The Twin Otter can accommodate up to around 17 passengers, offering an ideal option for large groups.
Benefits: The Twin Otter is a popular choice for inter-island flights in the Caribbean, thanks to its robustness and ability to land on short runways. Enjoy breathtaking views from its large windows during your trip.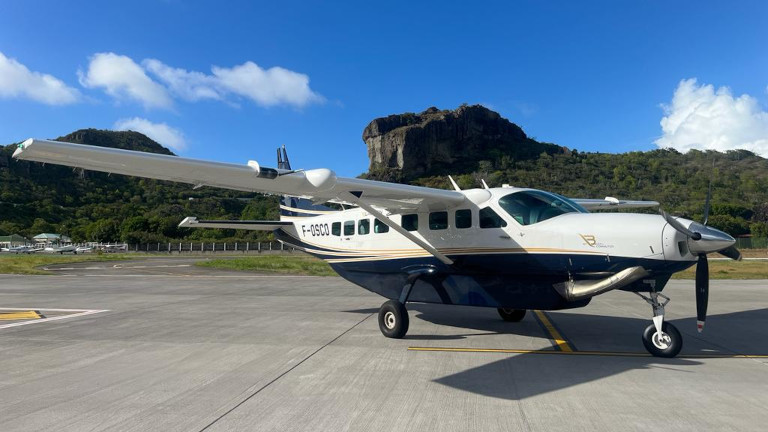 Cessna Caravan
Capacity: The Cessna Caravan can accommodate around 7 passengers, perfect for small group travel.
Advantages: Light and economical, the Cessna Caravan is the ideal option for efficient flights between the Caribbean islands. Enjoy optimum comfort and breathtaking panoramas thanks to its large windows.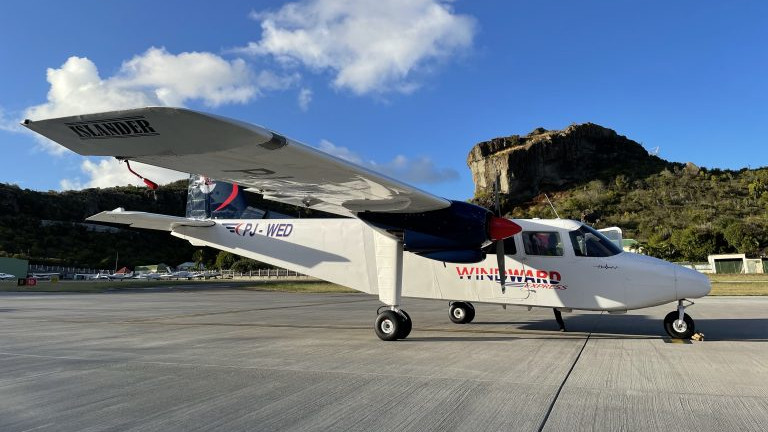 Britten-Norman BN-2 Islander
Capacity: The BN-2 Islander offers space for around 6 passengers, making it a versatile choice.
Benefits: This sturdy British aircraft is appreciated for its reliability, ideal for carefree travel between the Caribbean islands.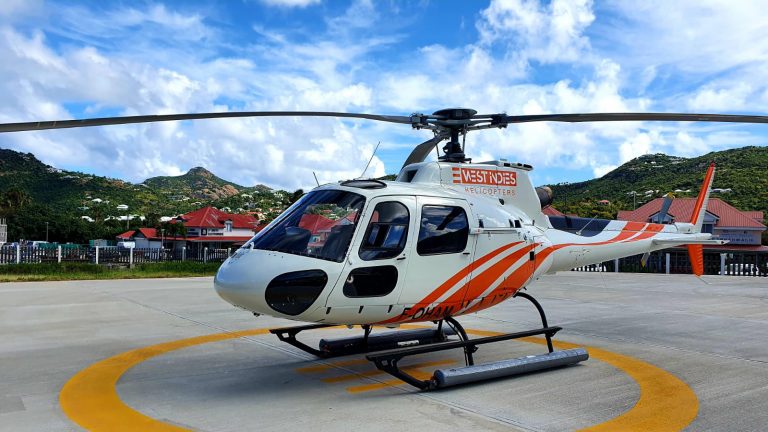 Airbus AS 350 B2 helicopter
Capacity: The Airbus AS 350 B2 can carry up to 4 passengers.
Benefits: For isolated destinations or quick transfers to exclusive locations, the AS 350 B2 offers great agility and breathtaking panoramic views.
Pilatus PC-12
Capacity: The Pilatus PC-12 can accommodate around 5 passengers, ideal for medium-sized groups.
Benefits: By choosing the Pilatus PC-12, you're opting for versatility and luxury. Flying at high altitudes is child's play with this single-engine turboprop, offering optimum comfort for long-distance travel.
BOOK PRIVATE CHARTER FLIGHT
About Five Stars Airport Services
Founded in 2013, Five Stars Airport Services is the result of an unwavering passion for aviation, backed by decades of experience in the industry. Our story begins long before that, thanks to our founder Rodrigue AUBIN, who has acquired invaluable expertise in the airline industry since 1987.
In 2001, a defining moment in our journey, Aubin Travel Services acquired handling management of the first airline serving the beautiful island of St. Barth. This milestone marked our commitment to providing first-class airport services, meeting the unique needs of our customers, and contributing to the development of this exclusive destination.
In 2013, we took the next step by creating Five Stars Airport Services. Specializing in passenger assistance and private flight booking, this division of our company reflects our commitment to service excellence. We have quickly distinguished ourselves as specialists in meet and greet and private flights, offering a personalized and unrivalled experience to our customers.
Today, Five Stars Airport Services is much more than a handling company. We are a complete air services organization, managing airport operations for other airlines that place their trust in us, while continuing to be the partner of choice for private travelers seeking an exceptional flying experience.
Our dedicated team of seasoned experts is ready to take on any challenge, whether it's managing the day-to-day operations of an airline, assisting passengers throughout their journey or planning tailor-made private flights. Our history is a source of pride, but our vision of the future is our driving force.
At Five Stars Airport Services, we constantly strive to exceed our customers' expectations. Our commitment to innovation, safety and quality ensures world-class service at every stage of your journey. Our history is rich, but our dedication to excellence is our promise.
We invite you to explore our site to learn more about our services, and to contact us to discuss how we can help you achieve your aviation goals. Thank you for your trust and interest in Five Stars Airport Services. We look forward to providing you with the ultimate flying experience.
Welcome aboard,
Rodrigue Aubin
OUR CUSTOMER EXPERIENCES
Merci beaucoup pour votre efficacité !!!
Décidément vous êtes vraiment au top… Je vous souhaite une agréable journée ainsi qu'à toute l'équipe.
Bien à vous,
E. Pollini
Thank you, VIP staff, you are fantastic!
Thanks,
Family MARKEY
Your service has been AMAZING!
Just about the BEST part of our trip!
Certainly the best part of our travel experience! Much appreciated!
Thanks,
J. Baruch
©2023 FIVE STARS ST BARTH - Legal